Details

Category: Mercados - Fletes- Cotizaciones
Published on Thursday, 24 September 2020 01:39
Written by Administrator2
Hits: 714
With 300,000 workers stranded on merchant ships, Bloomberg found dozens of labor violations that threaten seafarers' safety, as well as the global supply chain.
On July 25, the Unison Jasper pulled into the Australian port of Newcastle carrying 31,000 tons of alumina bound for one of the country's largest smelters. The ship had traveled around the world in the seven months since the pandemic began, but in Australia, authorities found a problem serious enough to detain the vessel.
Seven of the 22-person crew had been on the ship for 14 months, beyond the end-date of their contracts and in breach of international maritime law, regulators and union officials said. They were owed $64,000 in back pay, and there wasn't enough fresh food. There was also no valid plan to get them home to their families in Myanmar. They wanted off. 
"I've been on the sea for 14 months," one of the sailors said in a video interview with an organizer for the International Transport Workers' Federation, a union that represents seafarers. "We are actually very tired. I want to go home."
Ratified by more than 80 countries, the Maritime Labour Convention isn't mere guidance—the agreement sets minimum working conditions for seafarers that underpin the insurance policies and global contracts that govern the transport of basically everything. But the ongoing pandemic has shattered the norms of this highly fragmented industry, and with countries wary of relaxing port and border restrictions, violations of worker protections have become common. Nearly 20% of the world's 1.6 million seafarers are stranded at sea and, like those on the Unison Jasper, at the mercy of employers and shifting quarantine requirements to get them home. 
In conversations with Bloomberg reporters, more than 40 seafarers on nearly as many ships described deteriorating conditions. Most asked for anonymity given the fragility of their situations. About half didn't have current contracts and some said they hadn't been paid in more than two months, meeting International Labour Organization's definition of forced labor. Overtime pay, they said, was inconsistent, if their extra hours were logged at all. Most haven't left their ships in months after coronavirus outbreaks tied to cruise liners and merchant ships put an end to shore leave. Seafarers with abscessed teeth haven't been able to get dental care, and others say they've received stitches from crewmates in lieu of off-shore medical attention. On one ship, the captain died of a heart attack, and the crew stored his corpse in the freezer for nearly two weeks before it found a port that would repatriate the body.
The past-due contracts and unpaid overtime are especially troubling, said Brandt Wagner, head of the transport and maritime sectoral policies unit at the ILO, which administers the Law of the Sea. "These are violations of the Maritime Labour Convention," he said. "We should make sure that the Covid-19 pandemic isn't used as an excuse to breach the law … Seafarers' rights have to be upheld, even if it's cumbersome or difficult."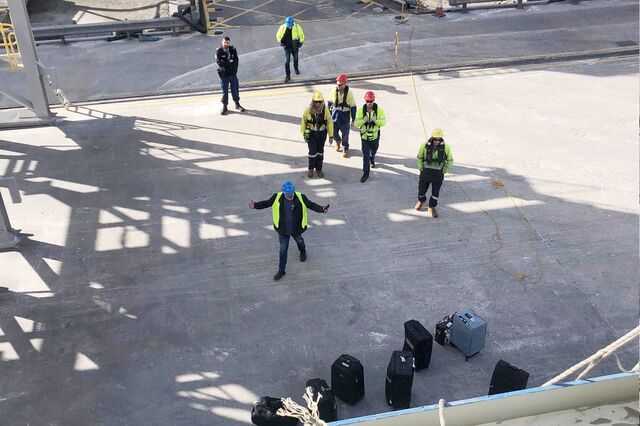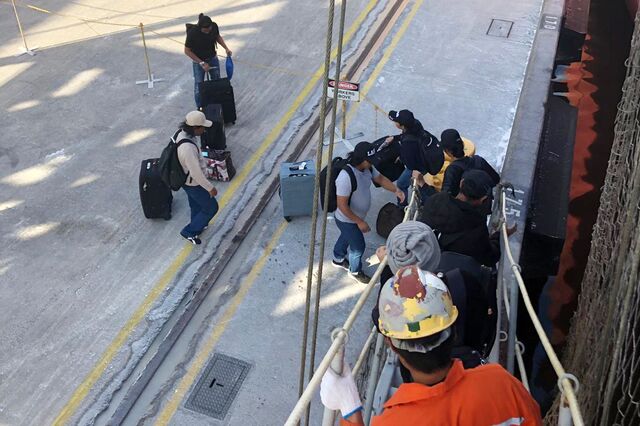 Source: International Transport Workers' Federation
The industry says the options are limited. Changing immigration rules and limited air travel have made swapping workers more difficult and more expensive, said Esben Poulsson, chair of the International Chamber of Shipping, the industry's principal trade group. "The efforts that are being made by companies to take care of the seafarers and effect properly timed crew changes have been and continue to be tremendous," he said. 
"I haven't seen any situations where you can't get a crew home. It just requires more time, more money and more effort."
Many companies have rerouted ships and chartered flights to facilitate crew changes, and still some 300,000 seafarers are overdue for relief—a number that grows as the pandemic drags on. The crisis has begun to reach shipping investors including global asset manager Fidelity International Ltd., American insurance giant Massachusetts Mutual Life Insurance Co., asset manager Oaktree Capital Group LLC and finance titan JPMorgan Chase & Co. If it isn't resolved soon, analysts say, it threatens to ripple up the supply chain, affecting commodities companies like Cargill Inc. and Glencore Plc. and retailers like Dick's Sporting Goods Inc., just in time for the holiday shopping season.  
"This is the most dire situation with vessels and crew that I've seen in many decades," said Andrew Kinsey, a New York-based senior marine risk consultant at Allianz Global Corporate & Specialty. At best, he says, expect more detentions and delays. At worst, there will be disastrous mistakes—Allianz estimates that human error contributes to at least three-quarters of shipping industry accidents—and fatalities. 
"The people who own the assets and make money off the assets need to come together to come up with a solution," Kinsey said. "They have to use their assets to get the crew off. Each party needs to assume responsibility instead of passing it to the next party." 
The seafarers interviewed by Bloomberg represented more than a dozen nationalities, working on vessels that regularly cross the Pacific and Atlantic oceans, on global shipping lines like CMA CGM SA, Evergreen Line and other publicly traded companies. The shipping industry typically recruits from poor countries where wages are low and complaining is discouraged. Shipping lines and staffing agencies determine when and how workers will get home, down to holding their passports, and seafarers who spoke to Bloomberg asked to be anonymous because they feared speaking out would hurt future job prospects. 
Shipping companies and regulators benefit from a complicated and fragmented system that rewards on-time shipments over the welfare of nearly invisible workers. It's hard to drum up public outrage, said Teresa Lloyd, chief executive officer of trade group Maritime Industry Australia Ltd. "The consumer doesn't know," she said. "It's not like when a sweatshop in Bangladesh catches fire—that's horrific, and we should all be appalled—we don't have the same visibility of what's happening to seafarers." 
Closed Due to Covid
More than 120 countries and territories have stopped or limited access to ships for seafarer crew changes to prevent the spread of coronavirus
Note: Data as of Sept. 17, 2020
Source: Wilhelmsen Ships Service AS
Last month, French shipping behemoth CMA CGM sent one of its ships from Marseille to Beirut on a humanitarian mission to deliver medical supplies and goods to Lebanon after the deadly port explosion there. From another ship in the CGM fleet, the APL Pusan, the crew looked on with confusion. Some of them had been on board for more than 13 months, including a seafarer who was brought back to the ship after a hospital stay on shore for kidney stones.
The ship has even stopped several times in Singapore, a port that helps facilitate crew changes, and no one was swapped out, two seafarers on the ship said. Their original employment contracts expired months ago. If the company can undertake a humanitarian mission, they wondered, why couldn't it let them go home? 
"Many companies in the world are making crew changes. But our CMA CGM, such a big company, can't do a relief flight," said one seafarer. "We are forgotten lives in the sea." 
The company said in a statement that it is doing all it can for the workers aboard its ships and that the number of over-run contracts has been decreasing over the past three months. In addition, the company said all its seafarers are working under labor contracts that meet legal rules.
"The situation remains very constrained and constantly challenged by regular changes in country rules with respect to the Covid situation," the company said. "Our teams are fully mobilized and we will not spare any efforts to facilitate seafarers' transit and return home in accordance with the authorities, local rules and personal requests."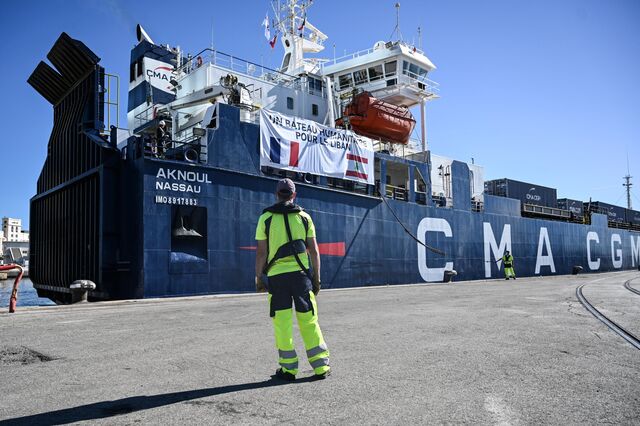 Photographer: Christophe Simon/AFP via Getty Images
Since the very beginning, shipping companies and the moneymen behind them have held seafarers' lives in the balance. By one historian's estimate, 10 sailors died for every 47 tons of Asian cargo shipped to Europe by the Dutch East India Company from 1580 to 1795, and it was common for Spanish galleons to start their journeys with surplus crew, knowing they'd lose some to starvation, disease or desertion.
Modernity has made shipping safer, but seafarers are still at the mercy of an industry that is opaque, deeply fragmented and bound by a patchwork of national and maritime laws. Every ship is connected with a handful of separate entities. Typically, there's  the ship's owner, its operator, a staffing agency which recruits seafarers, and the charterer—the company that hires the boat to get its goods from point A to point B.
There are a few dominant players in the shipping industry, but much of the trade is made up of middle men upon middle men, connecting companies that have goods to ship with a vast network of owners, operators, staffing agencies and so on. Those layers make it hard to hold anyone accountable for on-board working conditions, says Richard Meade, managing editor of U.K. shipping researcher firm Lloyd's List, or to solve problems when they arise.
At the furthest remove, investors and money managers have built lucrative portfolios out of shipping assets they almost never have to touch. MassMutual owns ships, as does hedge fund Apollo Global Management Inc.; Oaktree Capital owns almost 41% of Star Bulk Carriers Corp. and has three seats on the board. The financing divisions of Citigroup, DNB ASA and JPMorgan Chase have made them among the industry's most influential backers, according to Lloyd's List.
But as in the subprime lending crisis, the financial titans have some distance from their underlying assets. JPMorgan Asset Management, for example, barely blinked when, in 2019, one of its ships was seized by U.S. customs after more than $1 billion in cocaine was found on board. The firm declined to comment on the incident.
The Unison Jasper illustrates how thinly responsibility can be spread. The ship is registered under the flag of Hong Kong, so the authorities there are responsible for the vessel's seaworthiness and labor conditions on board. Then there are at least four companies in three jurisdictions with at least a sliver of oversight:  
○ Registered owner: Emerald Shipping (Hong Kong) declined to comment for this story.  
○ Beneficial owner and operator: Unison Marine Corp. (Taiwan) didn't respond to emails and phone calls seeking comment. 
○ Charterer: Lauritzen Bulkers A/S (Denmark) said it had continuously urged the owner to resolve the situation. "We find the situation entirely unacceptable and do not want to be associated with this kind of behavior," CEO Niels Josefsen said in an email. 
○ Sub-charterer: Pacific Basin Shipping Ltd. (Hong Kong) paid to transport the alumina. Said it knew nothing about the working conditions on board and wasn't responsible.
Raft of Responsibility
The shipping industry is highly fragmented, rendering seafarers nearly invisible
Note: Diagram illustrates a typical staffing process in the shipping industry.
Source: Bloomberg reporting
In most ports, employers—usually the operator or the owner—are legally responsible for seafarers' safety, health and welfare. "But everyone along the supply chain has a responsibility," said the ITF's National Coordinator in Australia, Dean Summers. "Traditionally industry stands in a circle and points to the bloke to the left and no one takes the blame.
For the Burmese workers trying to get off the Unison Jasper, the primary point of contact was Dagon Lin Maritime Service Co., a recruiting firm in Yangon, Myanmar's biggest city. Shipping draws labor from the Philippines, India and other parts of Southeast Asia, relying on local companies like Dagon Lin to keep up the supply.
Dagon Lin managing director Nyunt Swe said everyone along the supply chain was paying the price for the pandemic. He was arranging crew changes and flights home at great expense. The workers who complained, he said, had hurt the reputation of the country's seafarers as a whole. If ship owners think Burmese workers are a risk, "they will stop offering jobs for Myanmar," he said. "This hurts our maritime industry and the economy as a whole. There aren't enough jobs for everyone here."
To be fair, the shipping industry was faster than most to understand the magnitude of disruption heralded by the coronavirus pandemic. Executives and trade groups have been lobbying governments and port authorities for months to award seafarers "key worker" status, with the same travel and immigration privileges often conferred on aircraft staff and medical workers. In July, more than a dozen countries including critical global shipping hubs like the U.S., Singapore, Greece and the United Arab Emirates pledged to ease port and border restrictions and to help stranded crews return home. 
And yet, as Covid-19 outbreaks flare up, even shippers with the best of intentions are having trouble. In August, GasLog Ltd., a natural gas shipper based in Greece, appealed to the International Maritime Organization to help 31 crew members on the GasLog Savannah in Singapore.     
"As you will appreciate, for reasons of safety, an oil tanker cannot be left unmanned."
In a seven-page letter, GasLog Chief Operating Officer Paolo Enoizi wrote that they'd been trying since June to rotate the crew on a tanker at the Sembawang Shipyard for repairs. The letter describes a Kafkaesque bureaucratic process of applications filed, lost, filed again, partially denied, only to have the rules and regulations change, requiring a whole new set of applications. At one point, the letter says port authorities would allow the crew to leave, but no new seafarers could embark.
"As you will appreciate, for reasons of safety, an oil tanker cannot be left unmanned," the GasLog COO wrote in his letter. "Permission to release four crew members but not allow their reliefs to join does not improve the situation."
Meantime, the crew hadn't been allowed off the vessel, not even to walk around the shipyard, according to the letter. After four months of de facto quarantine, there wasn't a single case of Covid-19 on board.  "We are concerned that no adequate measures have been taken to preserve the human rights of our crew," Enoizi wrote, citing international marine law.
The Maritime and Port Authority of Singapore said "a total of 16 sign-ons and 32 sign-offs were carried out between May and September on the GasLog Savannah and the ship departed Sept. 7. "In spite of the ongoing Covid-19 pandemic, Singapore has been facilitating crew changes under a set of 'safe corridor' procedures," the MPA said in a statement.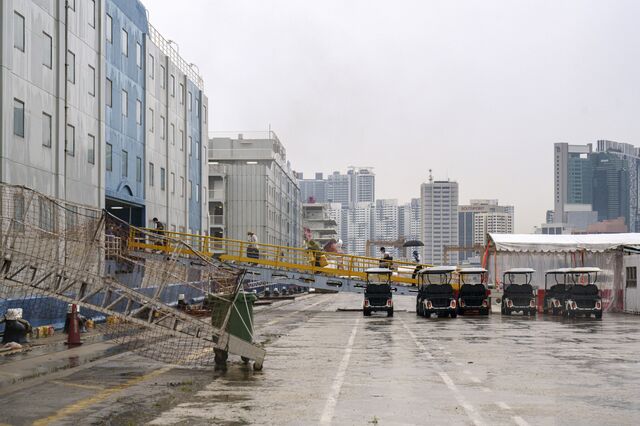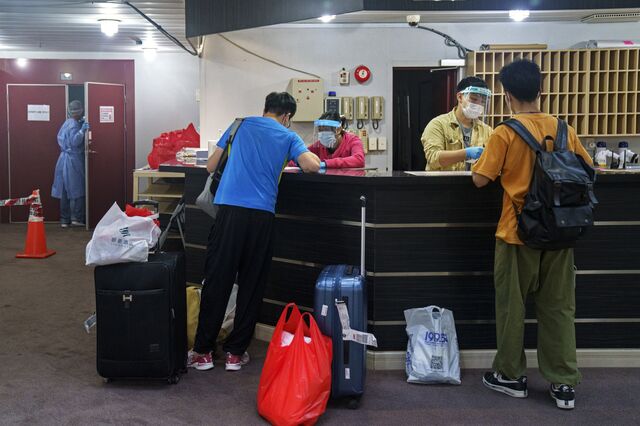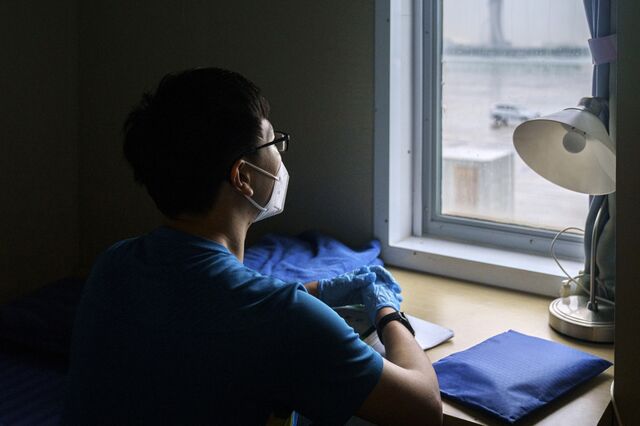 Shipping has always been an attractive investment, first for wealthy land-lubbing speculators, then as a staple of investment banking, hedge funds and, in the last decade, private equity. In this context, the labor crisis is a Covid-era anomaly. "It is being addressed and the crews are being repatriated," said Andy Dacy, head of the $2 billion global transport portfolio for JPMorgan Chase, adding that companies that act irresponsibly in this crisis will suffer in the long term. "I haven't seen any situations where you can't get a crew home. It just requires more time, more money and more effort."
Others, though, are starting to wonder whether the on-board conditions could affect their investments. "The shipping industry has never been seen as risky," said Antony Crockett, who leads the Asia-Pacific business and human rights practice for international law firm Herbert Smith Freehills. "Now those companies are going to get questions from their customers: 'Tell us about the conditions on ships. Tell us what you're doing to mitigate these impacts on the workforce?'"
Mariners say they're concerned the long months at sea are leading to accidents. On CMA CGM's APL Pusan, a crew member gashed his head and required stitches. On a ship carrying coal, a sailor suffered an eye accident with pressurized oil; he said he wasn't allowed on shore to see a doctor for another two months. Mentally, seafarers told Bloomberg, they're suffering.
"We are like hostages," said a crew member on the JY Ocean, a ship managed by Oceanbulk Maritime SA, a sister company to the Nasdaq-listed Star Bulk Carriers. By August, almost half of the 20-person crew had been on-board for more than a year, sent contract extensions and, they said, instructed by the captain to sign them. "It's very hard to concentrate on your work when you want to be home," the crew member said. 
Oceanbulk Maritime was founded by Star Bulk's chief executive officer and several executives hold titles at both companies; the two share an address in the Greek capital of Athens, according to public records. Oceanbulk didn't respond to a request for comment. But Hamish Norton, who is president of Star Bulk and was Oceanbulk's chief financial officer as recently as 2019 according to Securities and Exchange Commission filings, said in an email that the JY Ocean crew had been on board too long, "as have the crew on many of our other ships and thousands of ships all over the globe. It is a worldwide humanitarian crisis."
The ship, he went on, has called in ports where crew changes were prohibited or "grossly discouraged" by government quarantine requirements, advance notice or other procedural obstacles. "Relieving our crews is the highest priority for our management," said Norton. "It is a safety issue, it is a mental health issue, it is a contractual issue and we wish we could fix it."
Oaktree, which holds three seats on Star Bulk's board, called the situation in shipping "very difficult and unfortunate," according to a company spokesman. "Oaktree is fully supportive of industry efforts to work with governments to address these challenges and get these crew off of their ships in a timely manner," he said. 
Taipei-based Evergreen Line, part of the massive Taiwanese conglomerate that includes EVA Airlines, commands one of the world's biggest container fleets. It's received awards for environmental stewardship from the ports of Vancouver and Los Angeles, and its customer service and "maintenance of schedule integrity" earned it an industry award for "Best Shipping Line—Asia-Africa."
It's also been recognized by the companies that rely on it to stock their shelves. Dollar Tree Inc., a $24 billion national U.S. chain of discount stores, named Evergreen its Ocean Carrier of the Year in 2017, "in appreciation and recognition for service excellence." Dick's Sporting Goods, another mega-retailer, gave the shipper its "gold award for outstanding ocean carrier service and customer commitment."
But seafarers on the Evergreen-chartered Triton, a container ship so big it often makes local news when it comes into port, say they've been on the ship for more than a year, with gaps in their employment agreements, according to a worker who asked not to be named. The ship was put in drydock in China for two months before facilitating a crew change; the seafarers weren't allowed off while the ship was being repaired. 
"The people who own the assets and make money off the assets need to come together to come up with a solution."
A spokesperson for Evergreen said that crew employment and ship management of the Triton is the responsibility of the owner,  Monaco-based Costamare Inc., which is listed in New York. "Notwithstanding that, Evergreen always takes human rights and crew welfare seriously on all our operating fleet," the company said, adding that, after Bloomberg's inquiry, it encouraged Costamare to "seek mitigation on this crew issue soonest."
Costamare said in a statement that all of the crewmembers of the Triton are under contract, "in full compliance" with the Maritime Labour Convention and the relevant authorities. "The shipping community, including our company, is doing its best to address these problems while at the same time maintaining the uninterrupted flow of global trade," the company said. "The answer lies in persuading governments everywhere to facilitate the exchange of ship crew as essential workers." 
Further up the supply chain, few companies that rely on container shipping have addressed labor conditions for ship workers. In response to questions about working conditions on Evergreen ships, Dollar Tree confirmed a business relationship with Evergreen but declined to comment further. Dick's also declined to comment.
The chartering companies have come together in the past to push for changes in the industry, particularly with respect to climate change and green energy practices, said Meade, the Lloyd's List editor. "They will get involved in things that make them look good, like decarbonization," he said. "But they don't want to be involved in the hidden humanitarian crisis affecting hundreds of thousand crew stuck on ships. It doesn't have the same P.R. ring, does it?"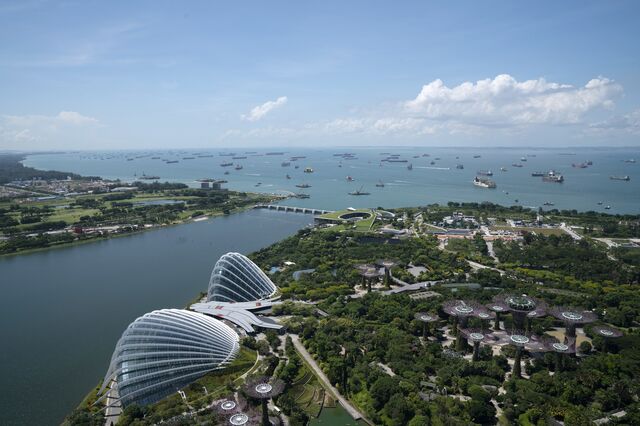 Photographer: Wei Leng Tay/Bloomberg
Of the commercial ports in 123 countries and territories, 45 have stopped allowing crew changes, according to Wilhelmsen Ships Service AS, part of the border closings and quarantine requirements that have come to define coronavirus containment policy. Seventy-six allow seafarer swaps with restrictions and two permit the changes with appropriate documentation. Until the world's ports reopen, shipping companies say, it will be hard to relieve large numbers of workers.
National governments are cautious. Hong Kong, one of Asia's biggest cargo ports, had permitted unrestricted crew changes until this summer when a fresh wave of cases swept the city. Now only ships bringing cargo to the city can enter the port and change crews. Incoming seafarers must test negative for coronavirus; those leaving are confined to their ship until they head for the airport and are forbidden to use public transportation. As for workers who aren't swapping out, they have to stay on ship the whole time.
"In recent years, there's more availability of seafarers than demand for them, so you have an unequal balance, which can of course lead to exploitation, sadly," said the ICS' Poulsson, adding that the problem, "unacceptable as it may be," is the result of a few bad actors. "Covid has opened the door for unscrupulous operators to continue being unscrupulous." 
In June, the Australian Maritime Safety Authority put shipping companies on notice. Flexibility had been critical to supporting international trade in the early months of the pandemic, the marine authority said, but "there is a limit to reasonable continuous periods of service." Starting July 1, any ship in an Australian port must have satisfactory repatriation plans for workers onboard for more than 11 months. Seafarers who are no longer working under valid contracts must be repatriated immediately, and if that means the ship falls below its minimum crewing requirements, so be it.
As of Sept. 10, the regulator said it's received 108 complaints alleging labor violations. In roughly 32, workers said they'd been on board 14 months or longer. Most of the complaints have been resolved, authorities say, but seven ships, including the Unison Jasper, were detained for what the regulators described as failure to provide decent working conditions, insufficient quality and quantity of food, underpayment of seafarers and attempts to coerce workers' silence. In the most egregious cases, the ships have been barred from Australian ports for six to 12 months.
Investors are also expressing concern. Fidelity International, a $566 billion asset manager, said it had contacted 30 of its portfolio companies in the shipping, airline and charterer sectors to discuss "the crisis of stranded seafarers," a company spokesperson said in an email. "We need collective action and multilateral collaboration."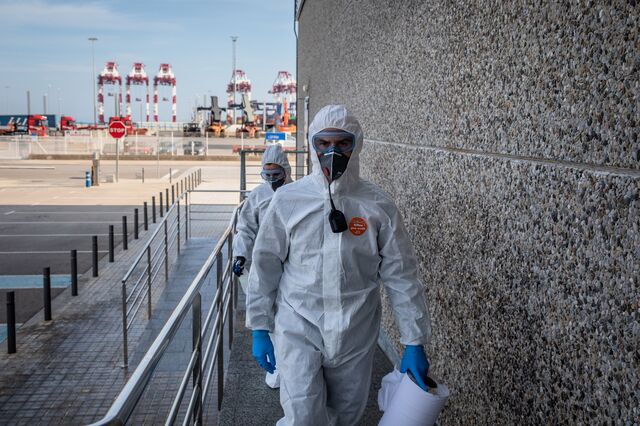 Photographer: Angel Garcia/Bloomberg
Shipping is a business built on coordination between independent entities—it's called 'logistics' for a reason. But the Covid-19 pandemic has cast all future plans in doubt and, with the world economy in deep recession, few are willing to take on expensive, complicated rescue missions unless they absolutely have to. While anyone with far-flung family might be unsure when they'll be able to see them again, it's particularly hard for seafarers who manage their tours of duty with an end-date in mind. 
Indian seafarer Alroyd Fernandes quit his job on an oil tanker when his six-month contract expired in mid-August; he's stopped working but his company has yet to let him off the boat. "My wife is in poor health and needs me — she's managing three kids on her own, including an infant," Fernandes wrote in his resignation letter.  "I don't want to jeopardize the safety of the vessel and on-board crew ... due to stress and my present mental state." 
Relief, for now, is piecemeal and somewhat arbitrary. The Philippines' Department of Foreign Affairs says it's currently working to bring home 127 Filipino seafarers. The seven Burmese ship workers from the Unison Jasper sought the help of their union and, after much negotiation, have been repatriated. Crew members on the APL Pusan said that the company finally orchestrated their release after representatives from CMA CGM visited the vessel in Singapore. The company confirmed the successful crew swap even though, it said, "the country lockdown and flight ban were blocking all initiatives."
Most efforts haven't risen to the magnitude of the crisis, says Kinsey, the risk consultant at Allianz. More drastic action is in order, he says: Ships should stop calling at ports that refuse to repatriate seafarers, and ship owners should declare their vessels unfit to make deliveries because the crew is overworked.
"Nothing's going to get resolved until you start disrupting trade," Kinsey said. "If everything gets delivered and ships continue to come and go, the crew gets forgotten. That's what's happening now."
"They've been delivering goods to consumers, the PPE we all need, the fuel and energy we depend on," he added. "Their contracts are done, their time is up, and everyone needs to answer for it."—With Claire Jiao, Annie Lee, Ann Koh, Stephen Stapczynski, Prejula Prem, Shruti Srivastava, Matthew Boyle and Cindy Wang 
(Updates to add efforts by the Philippines government to bring home stranded seafarers in the fourth-to-last paragraph. An earlier version of this story corrected the eighth and seventh-to-last paragraphs to show that Fidelity International, a $566 billion asset manager, has raised concerns about the seafarer crisis with portfolio companies, not Fidelity Investments.)