Details

Category: Energía y Combustibles
Published on Wednesday, 14 January 2015 04:49
Written by Administrator2
Hits: 671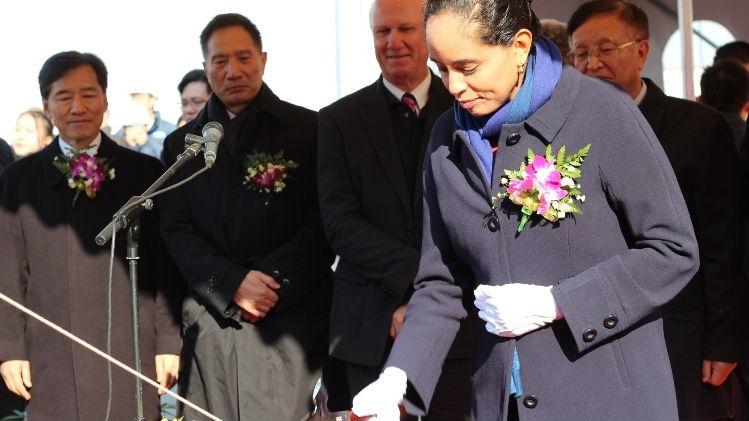 Papua New Guinea's PNG LNG gas project is one of very few gas projects worldwide that was completed ahead of schedule. Construction on the $19 billion project began in 2010, and for Peter Graham, managing director of ExxonMobil PNG Limited, the project has been a journey that will continue for many years to come.
"We installed hundreds of kilometers of steel pipe and two modern gas processing facilities into one of the most remote, rugged and socially complex locations in the world, and did so in an environmentally and socially responsible manner," says Graham. "However what is important is not just the physical assets that were built; we also committed to building capacity in Papua New Guinea and creating a positive project legacy."
The PNG LNG project is operated by ExxonMobil PNG Limited in co-venture with Oil Search Limited, National Petroleum Company of PNG, Santos Limited, JX Nippon Oil & Gas Exploration Corporation, Mineral Resources Development Company (representing landowners) and Petromin PNG Holdings Limited.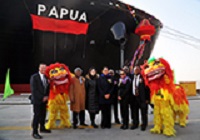 Production commenced in May last year, and adding to the project's milestones, its first custom-built LNG carrier has been officially named at Hudong Shipyard in China last week. The LNG carrier, named Papua, was built by Hudong-Zhonghua Shipbuilding Group (Hudong) and can carry approximately 172,000 cubic meters of LNG. It is claimed to be the largest LNG carrier built in China to date. 
The Papua will be operated by Mitsui O.S.K Lines (MOL) on behalf of ExxonMobil PNG Limited, and is expected to be delivered to Papua New Guinea in early 2015. Including the Papua, four dedicated carriers will ship LNG for the PNG LNG project to customers in Asia. These are the Spirit of Hela, Gigira Laitebo and another ship currently under construction by Hudong. 
The PNG LNG project includes gas production and processing facilities in the Southern Highlands, Hela, Western, Gulf and Central provinces of Papua New Guinea. More than 700km of pipeline connect the facilities which include a gas conditioning plant in Hides and liquefaction and storage facilities near Port Moresby with project capacity of 6.9 million tons of LNG per year.
The 407km offshore pipeline commences at the Omati River landfall and follows the river for approximately 24 kilometers past Goaribari Island to the open sea. The pipeline then crosses the Gulf of Papua to the Caution Bay landfall at the LNG Plant site near Port Moresby. Over 34,000 joints of pipe were used in its construction.
The project as a whole it took more than 191 million work hours to complete. At peak, more than 21,000 people were employed, including more than 9,000 Papua New Guineans. 
Flooding, minimal pre-existing infrastructure and extremely steep slopes were among obstacles that were overcome. Pipe had to be airlifted in some areas because the soil could not support heavy machinery, and lack of infrastructure required construction of supplemental roads, communication lines and a new airfield.
Some of the keys to success included starting early and embedding maintenance and operations personnel in project design offices, says Graham. "Based on ExxonMobil's extensive operations experience and incorporating lessons learned from other projects, we identified all of the deliverables required, including operating procedures and equipment strategies, reference manuals, business systems, spare parts lists and post-startup contracts and ensured we were ready. The devil is in the detail and we worked the details hard."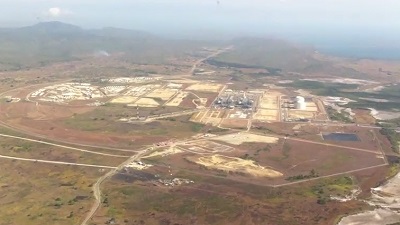 The training load was enormous. ExxonMobil developed and used sophisticated process simulators, specifically developed to mimic the control panels at Hides Gas Conditioning Plant and the LNG Plant. Simulator training was also used for the PNG Ports pilots who would be responsible for safely bringing the huge LNG tankers to berth in Caution Bay.
"Our operations teams comprise a mix of experienced process employees from ExxonMobil facilities around the world and freshly trained young Papua New Guineans with no previous operations experience. We systematically assessed the hazards and risks associated with each task, and we assigned additional personnel to act as mentors. For high risk tasks, such as line handling to tie up the LNG tankers, we brought in experts for several months to train and coach PNG Ports staff.  And we trained and drilled to ensure we were ready to deal with emergencies," says Graham.
To avoid any potential disturbances during startup affecting long-term customers, ExxonMobil sold cargos over the first few months on a spot basis. During this time, product sampling and laboratory testing equipment and procedures were verified. Shipping arrangements were made to ensure coverage of cargos and compatibility of ship-to-shore arrangements including surveillance, piloting, tug assistance in berthing and line handling.
The project is expected to produce more than 9 trillion cubic feet of gas over its estimated 30 years of operations. It will provide a long-term supply of LNG to four major customers in Asia including China Petroleum and Chemical Corp. (Sinopec), Tokyo Electric Power (TEPCO), Osaka Gas and CPC Corp. Taiwan.
ExxonMobil's involvement in PNG is expected to grow. "We have an active exploration program in PNG. Over the last half decade or so, ExxonMobil, with its JV partners, have invested over $400 million in exploration," says Graham. "We have demonstrated what can be achieved in Papua New Guinea and have set the stage for future investments in this resource-rich nation."