Details

Category: Construcción Naval
Published on Friday, 26 May 2023 01:00
Written by Administrator2
Hits: 153
Xinhua | Updated: 2023-05-24 09:55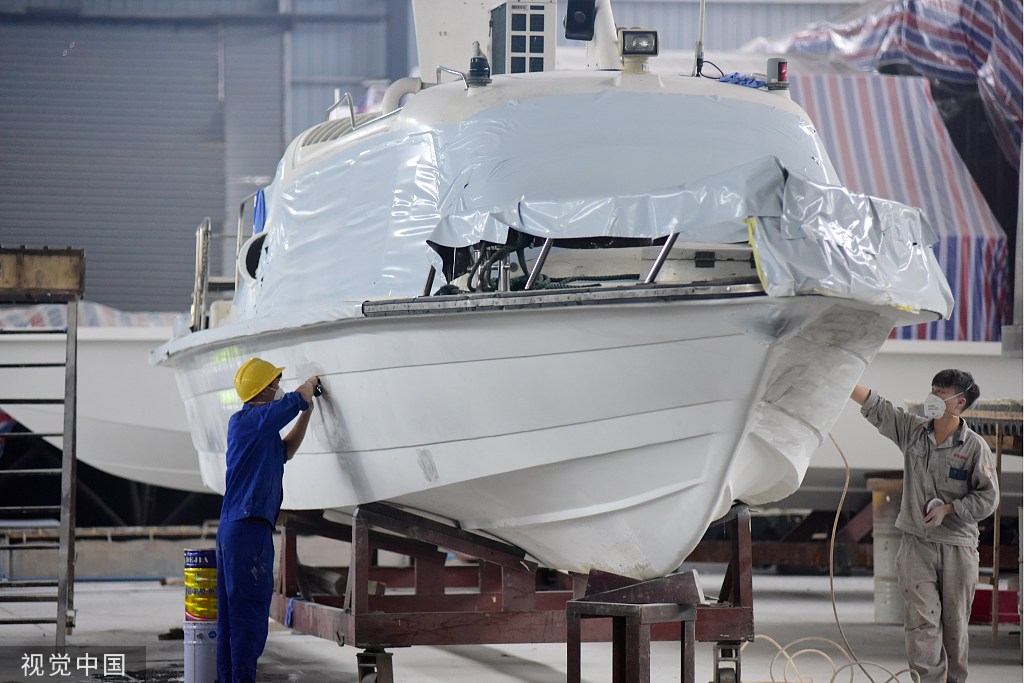 Workers maintain a yacht at Haiquan Yacht Co Ltd in Yuanjiang, Hunan province on May 21, 2020. [Photo/VCG]
CHANGSHA -- As the sun gently rises over the tranquil lake at dawn, shipbuilding factory workers shatter the morning silence in an industrial park in the city of Yuanjiang, Central China's Hunan province.
Yuanjiang, owing to its position in the hinterland of China's second-largest freshwater lake Dongting, benefits from waterways that provide abundant resources and foster a flourishing shipbuilding industry. For centuries, countless ships have set sail from here, embarking on journeys around the world.
Shipbuilding is now a pillar industry for the city, boasting an impressive output value of over 10.5 billion yuan ($1.49 billion) last year and representing more than 80 percent of the province's total output value of shipbuilding.
Yuanjiang is home to 59 companies dedicated to shipbuilding and related supporting businesses.
"Our current order quantity has quadrupled from the same period last year," said Yu Jinming, sales general manager of Yaguang Technology Group Co Ltd.
He emphasized that the shipping industry is embracing the trend of green and low-carbon development, with new energy ships becoming the market's top choice. Consequently, orders for these vessels are rapidly surging both domestically and internationally.
"We are actively investing in research and development to transform and upgrade our vessels, making them more environmentally friendly," Yu said, adding that new energy models currently constitute approximately half of the company's product lineup, and this percentage is expected to increase in the near future.
As the summer approaches, yacht companies are currently experiencing their busiest period to receive and fulfill orders, aligning perfectly with the surge in travel demand.
"Recently, we have been particularly busy, with the number of inquiries and orders doubling," said Liu Gang, deputy general manager of Haiquan Yacht Co Ltd, whose phone now rings incessantly with new business prospects.
Liu said the company's primary focus is the manufacturing of passenger boats and tourist yachts. "With a series of promotional policies in place, the tourism industry is experiencing a robust revival and domestic water-based tourism has welcomed various development opportunities."
Liu believes the shipbuilding sector holds immense potential for expansion, given the rising popularity of yacht tourism.
"Since the beginning of the year, we have witnessed a significant increase in order volume," said Xia Canhui, an employee of Hunan-based Taohuajiang Yacht Co Ltd.
"To maintain stable orders and expand the market, our company has dispatched sales representatives to various regions across the country," Xia said.
As workers made final preparations for the trial launch of a waterway transport vessel, Xia pointed to a large ship that would soon depart from Dongting Lake and head for distant ports. "Our future lies in the vast ocean," he said.