VietNamNet Bridge – Experts have warned that Vietnam will fail to develop its shipbuilding industry if it sells Song Cam – the best and only profitable shipbuilder – to Damen company of the Netherlands.
 Dutch group wants to buy 70% stake of Cam River Shipyard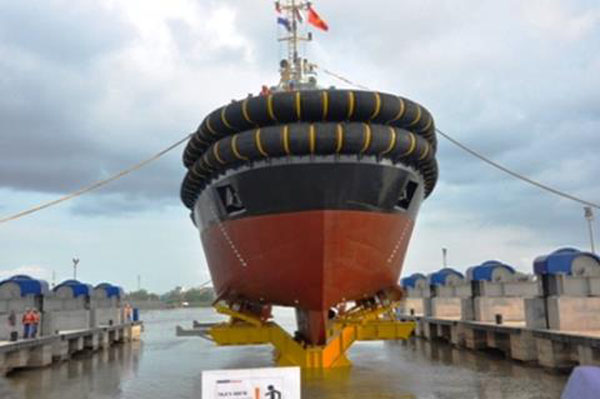 The Dutch group, which is now a partner in the Song Cam Shipbuilding joint venture, has officially asked to buy at least 70 percent of the company's shares, according to the Shipbuilding Industry Corporation (SBIC), previously known as Vinashin, which said it had reported the request to the Prime Minister and Ministry of Transport for consideration.
Choosing Damen as a strategic partner is part of the SBIC holding company's equitization plan made public earlier this year and a Song Cam restructuring plan released last August.
The managers of SBIC, advocating the the share sale to Damen, said this would not only help attract more capital for the restructuring of SBIC, but also would help improve corporate governance skills, upgrade technology and give opportunities to Vietnam to approach the world market.
However, under current laws, the sale of 70 percent to one single foreign investor is impossible. The Prime Minister's Decision No 55 dated in 2009, foreign investors must not hold more than 49 percent of shares in joint stock companies.
Therefore, in a document to the Prime Minister and relevant ministries, SBIC proposed to sell 70 percent of Song Cam shares in an exclusive case.
If the sale gets the nod from the Prime Minister, SBIC's spokesman said, the two sides would finish the negotiations about the price by mid-January 2015.
Song Cam is the only profitable subsidiary of SBIC with a steady growth rate of 11 percent per annum.
Though Vinashin, its "parent company", is widely known for its ineffective use of state capital and heavy losses, Song Cam still has been "living well". Thus, experts have called on the government and SBIC to think carefully about the deal.
"If Vietnam sells Song Cam, it will have nothing left for the shipbuilding industry," an economist said, adding that Vietnam wants to develop shipbuilding into a key industry.
Do Thai Binh from the Vietnam Shipbuilding Industry Science & Technology Association, a renowned shipbuilding engineer, noted that in general, Vietnam should not look forward to technology transfer from foreign partners.
"Foreign investors come to Vietnam to take full advantage of the cheap Vietnamese labor force. Meanwhile, the benefit Vietnam can get is really very modest," Binh said in an interview with Dat Viet newspaper.
"It seems that SBIC just wants to sell stakes to get money to pay Vinashin's debts, while it does not think about what the nation, laborers and the shipbuilding industry can obtain from the deal," Binh said.
Dat Viet