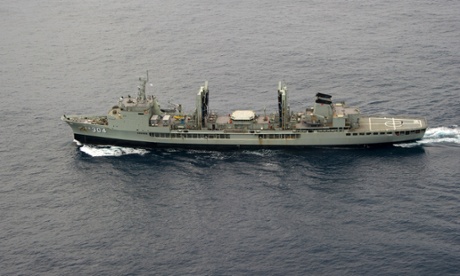 Australian shipbuilders have been barred from the tender process to replace replenishment vessel HMAS Success. Photograph: Department of Defence/AAP
New navy refuelling ships will be built offshore, with the Abbott government giving first preference to Spain and South Korea.
Defence minister David Johnston has announced the tender process for the urgently needed replacements of replenishment vessels HMAS Success and HMAS Sirius – but Australian shipbuilders won't be able to bid.
Instead, the battle will be between Spain's Navantia and South Korea's Daewoo Shipbuilding and Marine Engineering.
Johnston says the low productivity of domestic shipbuilders in the troubled air warfare destroyers program means the government has to look elsewhere to get value for money.
And the ships may not be the only projects to go overseas, with the government warning that if local shipbuilders don't lift their game, eight new future frigates may go offshore as well.
The future frigates will replace the navy's existing Australian-made Anzac frigates next decade, and the government has pledged $78.2m for preliminary work.
But at the same time, the government will review Australia's shipbuilding capabilities.
"No responsible government could consider providing further work to an industry that is performing so poorly," Johnston said on Friday. "This is not a blank cheque."
Johnston said decisions about replacing navy ships should have been made by Labor years ago, in order to avoid the domestic industry "valley of death" – the gap between current and future projects when workers are laid off.
Unions were quick to condemn the refuelling vessel decision, accusing the government of showing a lack of vision.
Denying Australian shipbuilders the chance to tender for work stifles the shipbuilding sector at a time when preference should be given to Australian manufacturers, they say.
"Offshoring is an insidious move that undercuts the works of Australian shipbuilders," Manufacturing Industry Workers Union national assistant secretary Glenn Thompson said in statement.
However, he was pleased to see that 20 new patrol boats would be built on home soil, which would lift the confidence in shipyards.
"If the government is aiming to create a shipbuilding industry that's up to international benchmark standard, ensuring there is work is a good first step," he said.